Monthly Archives: January 2020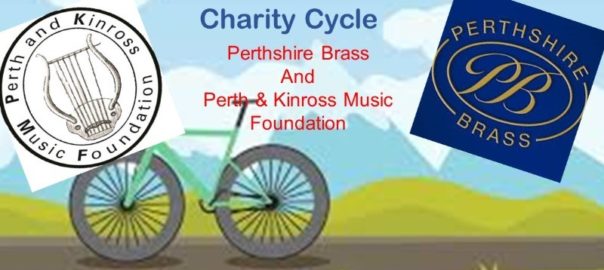 On 16-17th May 2020, supporters of PKMF are cycling from Perth to Ecclefechan to raise funds for Perthshire Brass and Perth & Kinross Music Foundation, and to honour the founder of both groups, George Annan Snr, who passed away last year.
PKMF's Chairperson, Mrs Mhairi Mackinnon said, "We chose Ecclefechan because of George's saying "a crotchet is the same length in Perth, Scone, or Ecclefechan" when teaching youngsters how to play brass music."
"The route takes us 120 miles over 2 days, with an overnight in Lanark."
Perthshire Brass was formed in 1978 by George Annan Snr (as Perthshire Youth Brass) to enable youngsters in the area to learn a brass instrument and play in a band together. The band has evolved over the years to new have both a youth band and senior band. They now participate in numerous competitions all over the country, as well as many concerts every year in the local area. The band also goes on tour every couple of years to Perth's twin cities (Aschaffenburg, Germany and Bydgoszcz, Poland most recently). Any funds raised from this venture will go towards the continued development of young players in both the youth and senior bands as well aiding the running of both bands.
The Perth and Kinross Music Foundation are a registered charity that was founded in 1997. (One of the founder members was George Annan senior). They are a small group but have big ambitions with the main aim being 'to let our children play!'
They help between 75 and 100 pupils annually whose parents cannot afford to pay for their music tuition. This allows them to continue learning through their lessons and also to play in Central Groups. Playing a musical instrument let's children grow in confidence, learn self discipline and life enhancing skills and above all, experience the joy of music making.
If you would like to sponsor us- please go to our JUST GIVING page.